PIBC 2023 Annual General Meeting
PIBC's 2023 Annual General Meeting (AGM) will take place as follows:
Date: Friday June 2, 2023
Time: 8:45 AM (Pacific)
Location: Ballroom, Sun Peaks Grand Hotel & Conference Centre, 3240 Village Way, Sun Peaks, BC *
Agenda for the AGM:
1. Call to Order
2. Introduction of Board Members & Guests
3. Board Elections - Appointment of Scrutineers
4. Minutes of Previous General Meetings - Annual General Meeting (July 5, 2022)
5. Report of the Board & Committees (2022 Annual Report)
6. 2022 Audited Financial Statements
7. Appointment of Auditors (2023 Fiscal Year)
8. Board Elections - Report of Election Results & Introduction of 2023-2025 Board
9. Adjournment
All members are welcome and encouraged to attend the AGM in Sun Peaks. We look forward to your attendance!
 
*Online Streaming Broadcast & Recording of AGM:
Any members not attending the conference in Sun Peaks (in-person or online through the virtual conference attendance option) but who are interested in seeing the AGM can optionally sign up to view an online broadcast / stream of the event. 
To sign up for this viewing option, please sign up by clicking here to the conference website, scrolling down and selecting "Virtual PIBC AGM Registration". Please be sure to RSVP by Friday, May 26, 2023 to ensure we are able to send you the appropriate access information for the AGM broadcast prior to the meeting.
A recording of the AGM broadcast will also be made available following the AGM. Thank you.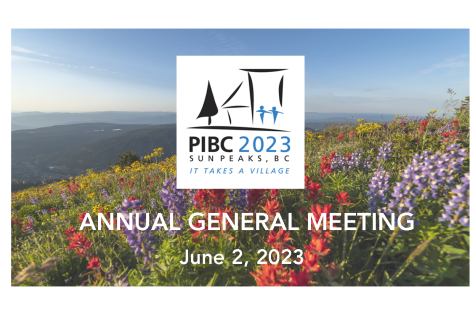 3240 Village Way
Sun Peaks,
British Columbia,
V0E 5N0