PIBC SCC Sketch Club: Gastown
Join us for the first official meet up of the PIBC SCC Sketch Club!
The PIBC South Coast Chapter Sketch Club holds FREE monthly meet ups where all planners of all skill levels are invited to meet and sketch our surroundings.
Join us on November 10th at 6:00pm at the Cordova St. entrance of Waterfront station. We will make our way down Water Street, sketching Gastown's nighttime scene. At 7:30pm we will head to a nearby pub for socializing (optional).
Bring your own paper and drawing utensils.
Meet ups happen rain or shine (we try to choose rain-friendly locations in the winter months and find cover under awnings wherever we can!)
Hope to see you there!
Register Here

If you register and find you are unable to attend, please cancel your registration so we can make room for another person.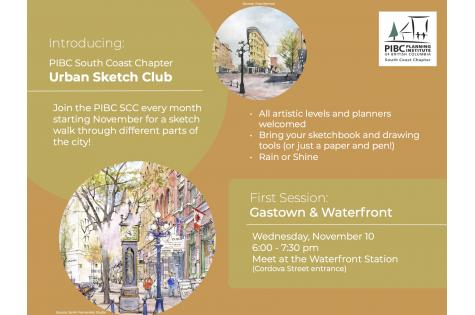 601 W Cordova St.
Vancouver,
British Columbia,
V6B 1G1