PIBC South Coast Chapter / Global Civic - Public Salon with Alain Bertaud
Global Civic and PIBC SCC
On Monday September 20th, 2021 we will host renowned Urban Planner and Author Alain Bertaud and his wife Marie Agnes at the Vancouver Playhouse. Alain Bertaud will share his insights into making a great city with special attention to the Vancouver context. Five local urbanists will provide short commentaries, critiques and questions followed by Alain's final statements.
The ideas of Alain Bertaud could lead Vancouver to be a more affordable, prosperous and vibrant city that evolves organically in response to human needs. There will be 5 online workshops during the summer leading up to the Alain Bertaud evening in September. The workshops will be lead by Vancouver Urbanists who will share their thoughts on Alain Bertaud's book, Order Without Design: How Markets Shape Cities.
Urban Lunch Series (June 8 - Sept 9)
Join us online from 12 - 1:00 pm.
July 8th with Jens von Bergmann & Nathanael Lauster
July 22nd - Erick Villagomez
August 12th - TBA
August 26th - TBA
September 9th - TBA
Click here or on the Event Link below to register for the Sept 20th event or any of the online Urban Lunch Series events.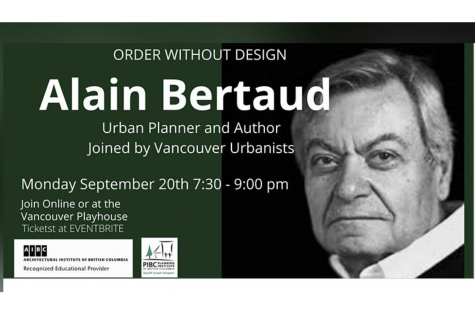 600 Hamilton St
Vancouver,
British Columbia,
V6B 2P1