2020 MIABC Risk Management Conference
Municipal Insurance Association of British Columbia
Cancelled due to COVID-19: https://www.miabc.org/news-events/RiskManagementConference
2020 MIABC Risk Management Conference UPDATE
As you know, we are facing a period of unprecedented uncertainty and disruption across the globe related to the COVID-19 health pandemic.  The health and safety of our communities across British Columbia is our top priority. We believe it is of utmost importance to follow the guidance of health authorities to ensure that appropriate procedures are in place to protect our community. With the foregoing in mind, it is with regret to announce that we will be postponing the MIABC's Annual Risk Management Conference until March 30 through April 1, 2021. We will be offering registrants a full refund on their conference registration or the opportunity to roll their registration over to the conference in 2021. We will be sending a more detailed email to our registrants, speakers and sponsors in the next 24 hours. We look forward to welcoming you all back to our conference in 2021.
 
The MIABC's Annual Risk Management Conference is held each spring in Vancouver. Sessions cover the basic tenets of risk management as well as more advanced topics. In recent years, the conference has featured streams, including parks & recreation, building inspection, and administration, so that delegates can tailor their conference time to their specific area of interest. In addition to its educational component, the conference provides an excellent networking opportunity for attendees to make connections with counterparts from across the province. The conference creates a forum for local government staff to celebrate their successes, to learn from each other, and to build communities within communities.

The 2020 MIABC Risk Management Conference is open to all staff of MIABC members and non-member local governments.
Registration for the 2020 MIABC Risk Management Conference is now open! Register before February 8th to take advantage of the early bird rate! Visit https://miabc.swoogo.com/rmc2020 for registration info.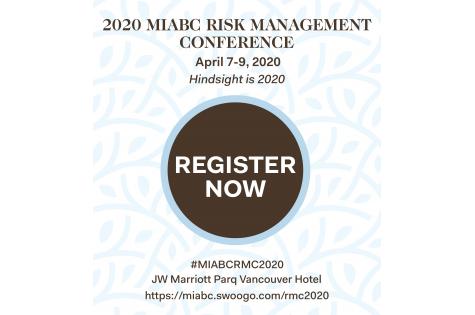 39 Smithe St
Vancouver,
British Columbia,
V6B 0R3