Vancouver Urban Farming Forum
Vancouver Urban Farming Society
The Vancouver Urban Farming Society (VUFS) is pleased to host the 8th Vancouver Urban Farming Forum at the PNE on Sunday, January 19, 2020, 8:30 am-4:30 pm.
The Forum brings together urban farmers from across the region, policymakers, food security advocates, and urban agriculture enthusiasts. All are welcome!
Your ticket for the day includes admission to a diversity of sessions and panel discussions on urban farming topics, as well as a delicious lunch made with ingredients sourced from urban farmers.
As a convening organization, we are proud to bring together a group of speakers & participants with extensive experience in the food and farming sector who are working in diverse and creative ways toward an increasingly vibrant and resilient local food system.
________________________
8:30 - 9:00 REGISTRATION
9:00 - 9:25 WELCOMING ACTIVITIES
9:25 - 10:15 SPECIAL GUEST SPEAKER
We are pleased to welcome Evan Bowness, Ph.D. Candidate, Institute for Resources, Environment and Sustainability as our Special Guest Speaker. Evan will share the findings of his research into urban agriculture and land struggles, and opportunities within the urban farming sector to support social mobilization for food systems change, and creating a more equitable world.
10:15 - 10:50 URBAN FARMING INITIATIVE ANNOUNCEMENTS
11:00 - 12:00 SESSIONS A & B
City Update: Summary of feedback on Vancouver's Urban Farming Guidelines
In 2016 the City of Vancouver passed the Urban Farming Guideline which created conditional zoning for urban farming in industrial & residential zones throughout the City of Vancouver and created an urban farming business license category. Caitlin Dorward, a social planner with the City of Vancouver, will summarize the feedback she has received about the Urban Farming Guideline, at the same time increasing urban farmer awareness of the bylaw and implications for their operations.
Speaker: Caitlin Dorward, Social Planner, City of Vancouver
Unpacking White Privilege in the Food Movement
One year ago, the Hua Foundation in partnership with the Vancouver and Kamloops Food Policy Councils, hosted the inaugural "Unpacking White Privilege in the Food Movement" series. Over 1.5 days, a supportive learning space was held for those with white and light-skinned privilege working in Vancouver and Kamloops' food movements to unpack how our racial privilege shows up in our work and explore what being a white anti-racist means. Folks who participated in the first series will host a conversation about this work, our learning, and growing the project.
Facilitator: Zsuzsi Fodor

Bonnie, Kamloops Food Policy Council

Veronik Campbell, UBC Farm

Karen Ageson, Farmers on 57th & Vancouver Urban Farming Society
12:00 - 1:10 LUNCH
1:20-2:20 SESSIONS C & D
Supporting Growth in Urban Farming: Building the Bylaw Together
How can cities meet their sustainability goals while supporting the growth of a vibrant urban farming sector? This session presents preliminary findings of the Vancouver Urban Farming Census and outlines the challenges faced by urban farmers in following the city's Urban Farm Guidelines. We will highlight specific examples of how other cities have supported urban farming activities in their communities, and discuss recommendations for how the City of Vancouver can use policy to advance, rather than hinder, the growth of the urban farming sector.
Speaker: Angeli dela Rosa, Researcher, Vancouver Urban Farming Society
Urban Bee-keepers & Flower Growers: Opportunities and Challenges
A growing number of urban farming businesses are producing honey and cut flowers. What are the business models for these small-scale operations? What are the benefits and challenges of operating hives and fields of flowers in an urban context?
Moderator: Thanushi Eagalle, Farmers on 57th

Elly Rakhmetouline, Late Bloomers Flowers

Rose, Front Yard Flower Co

Deb, Six Leg Apiary

Sarah Common, Hives for Humanity
2:35-3:35 SESSIONS E & F
Workshop: Developing Recommendations to Improve the Guidelines
Urban farmers and policymakers will convene to discuss key aspects of the Vancouver Urban Farming Guidelines, the challenges they pose to urban farm businesses, the growth of the sector and possible policy solutions.
Facilitator: Shaunna MacKinnon

Chris Thoreau, Food Pedallers

Aaron Quesnel, SkyHarvest

Karen Ageson, Farmers on 57th

Elana Evans, City Beet
Food Waste Management: An Unpackaged Future
How do urban farms contribute to a low to zero-waste economy, and how can farmers leverage their participation in the zero-waste economy to attract more customers? Panelists will discuss how using local compost products contributes to the circular economy, while improving production results, the importance & how-to of zero-waste packaging & how food waste is minimized in a Community Supported Agriculture food distribution model.
Moderator: Marc Waldner, Susgrainable

Olga Landscorp, Society Promoting Ecological Conservation

Alison Carr, Nada

TBC
3:40 - 4:00 CLOSING
________________________
**NOTE** If you would like to further support VUFS' initiative to support Vancouver urban farmers, please, considering becoming a member by registering on our website Membership
Work-trade options available. Contact hello@urbanfarmers.ca if you are interested in learning more about volunteer opportunities at the Forum.
We want to acknowledge that this event is taking place on the unceded ancestral lands of the Musqueam (Musqueam), Səl̓ílwətaʔ (Tsleil-Waututh) and Skxwú7mesh (Squamish) traditional people. As farmers, settlers and organizers, it is important for us to recognize the indigenous stewardship that has come before us and the struggles and stories that these lands have composted over many years.
The 8th Vancouver Urban Farming Forum is made possible with funding from Vancity, Metro Vancouver, Pacific National Exhibition, Real Estate Foundation of BC, the Governments of Canada and British Columbia, through the Canadian Agricultural Partnership, a federal-provincial-territorial initiative, Fresh Roots and Sky Harvest.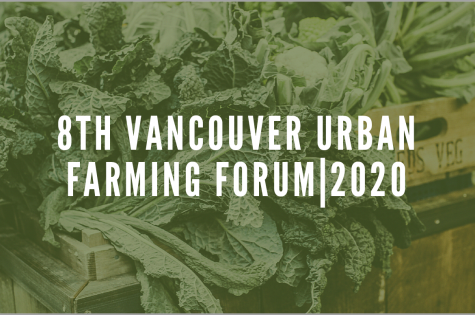 2901 East Hastings Street
Vancouver,
British Columbia,
V5K 5J1